Payment Options
Mitchell EMC has several options for you to pay your bill. You can come by any Mitchell EMC office during business hours, Monday through Friday, 8 am to 5 pm. Night deposits are available at each location as well. In addition, phone payments can be made by calling (229) 336-5221 or (800) 479-6034 any time, day or night, to pay your bill by credit card.
You may also mail your payment to:
Mitchell EMC
PO Box 409
Camilla, GA 31730
The following billing options are also available for our members:
Bank Draft
Members can arrange for energy bill payments to be processed automatically each month on the due date via bank draft. A bank draft authorization form should be completed. Please include a voided check and either mail or bring it to one of our offices.
Recurring Credit Card
Arrange for payment by American Express, Discover, Visa, or Mastercard:
Complete and sign the back part from your bill stub and return to Mitchell EMC, noting the type of credit card, card number, expiration date & verification code or call our office at (800) 479-6034.
Pre-Pay
Prepaid metering is a pay-as-you-go alternative to traditional electric service with a monthly bill. Once the account is set up, you can pay as frequently as you like, as much as you like. To sign up, call our office at (800) 479-6034 or come into one of our three office locations.
Mitchell EMC Mobile App
Our mobile app is designed to give you fast, secure account access so you can easily manage your account details, view your bill and account balance, make payments and find payment locations, schedule alerts, and reminders, receive push notifications and stay connected with us via Facebook.
CheckOut by PAYGO
A fast and convenient way to pay your Mitchell EMC bill while checking out at participating retailers near you. Get your barcode and find locations at www.mitchellemc.sedccheckout.com/Lookup.
Your barcode is now available on the backside of your bill. You will find the barcode in the payment options box on the backside of your bill so you can take advantage of the CheckOut option at participating retailers.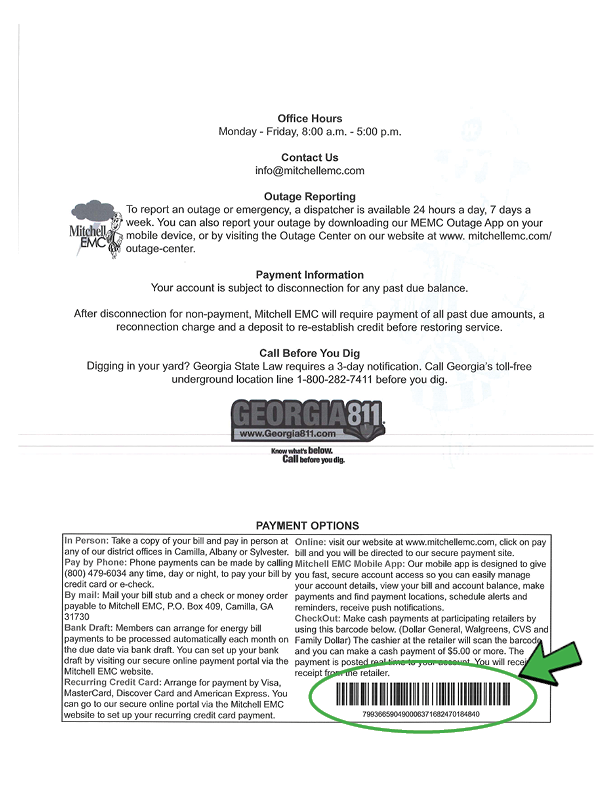 Update Your Account
Help us Help You. By keeping your account information up to date, Mitchell EMC is better able to answer questions and serve your account. If you've
Moved or have a new mailing address
Married or changed your name, or
Changed or added a phone number
We would also like to obtain your e-mail address & cell phone numbers. You can easily update your information by calling our office at 1-800-479-6034 and speaking with one of our friendly Customer Service Representatives.