Power of Membership
What it means to be part of MEMC
Cooperatives are owned by the members, or customers, who use them. Mitchell Electric Membership Cooperative (Mitchell EMC) was formed over 75 years ago by members just like you who needed electric services. They pulled together to organize your electric cooperative.
Today, Mitchell EMC safely delivers reliable electricity to more than 24,630 residential and commercial members in Mitchell, Worth and Dougherty counties. Mitchell EMC's distribution system consists of over 5,570 miles of line over 400 square miles.
NOTICE
Annual Meeting of the Members
At Mitchell EMC, the health and well-being of our members and communities is our top priority. Due to the concern and uncertainty surrounding the coronavirus (COVID-19), the Board of Directors and Staff at Mitchell EMC feel it is in our consumer's best interest to not conduct the Annual Meeting of the Members on April 17, 2020, as we had planned.
The board plans to hold a Special Called Meeting of the Members of Mitchell EMC on Friday, September 18, 2020, at 475 Cairo Road, Camilla, GA 31730. Additional information will follow closer to the meeting date.
An Important Update on COVID-19
3/20/2020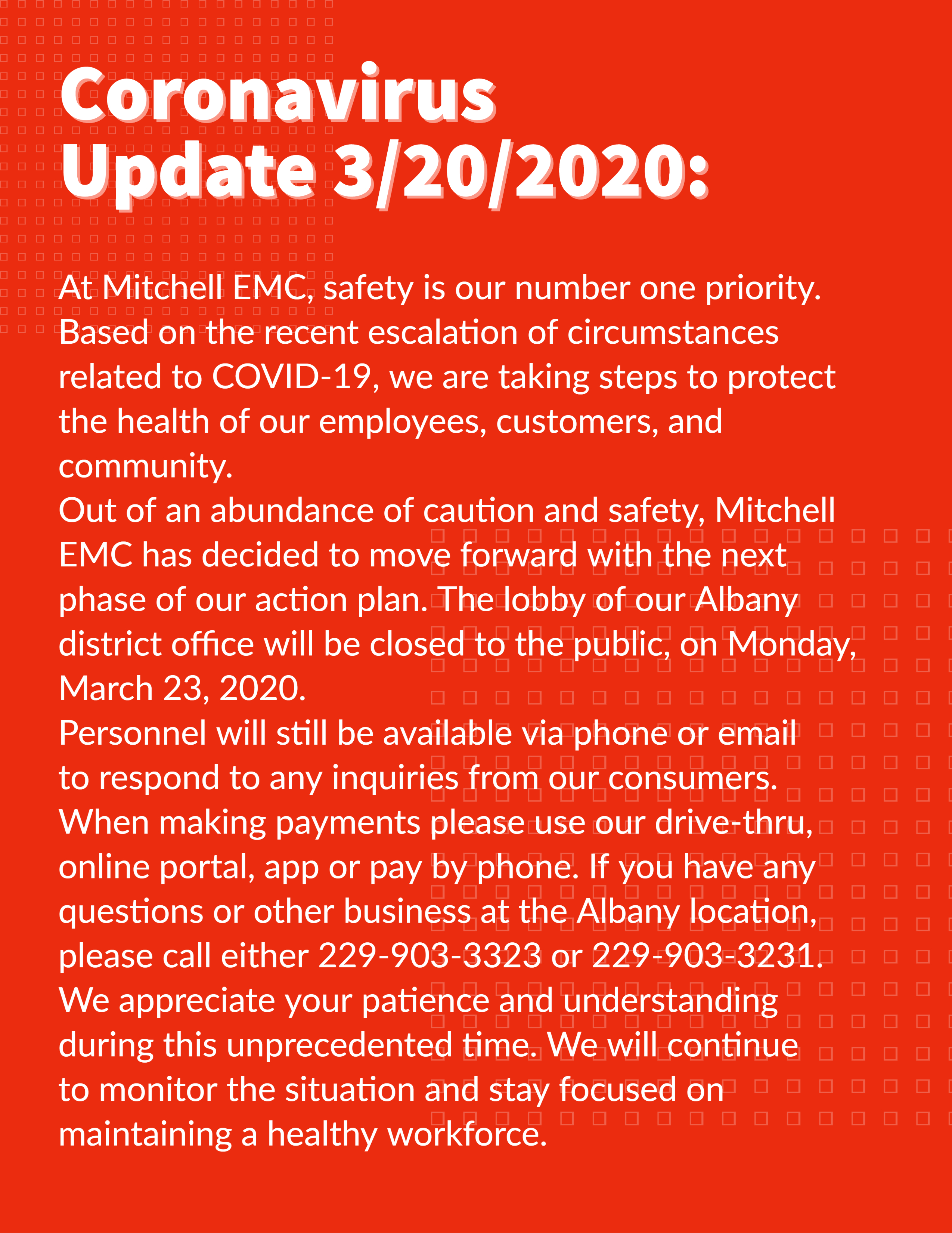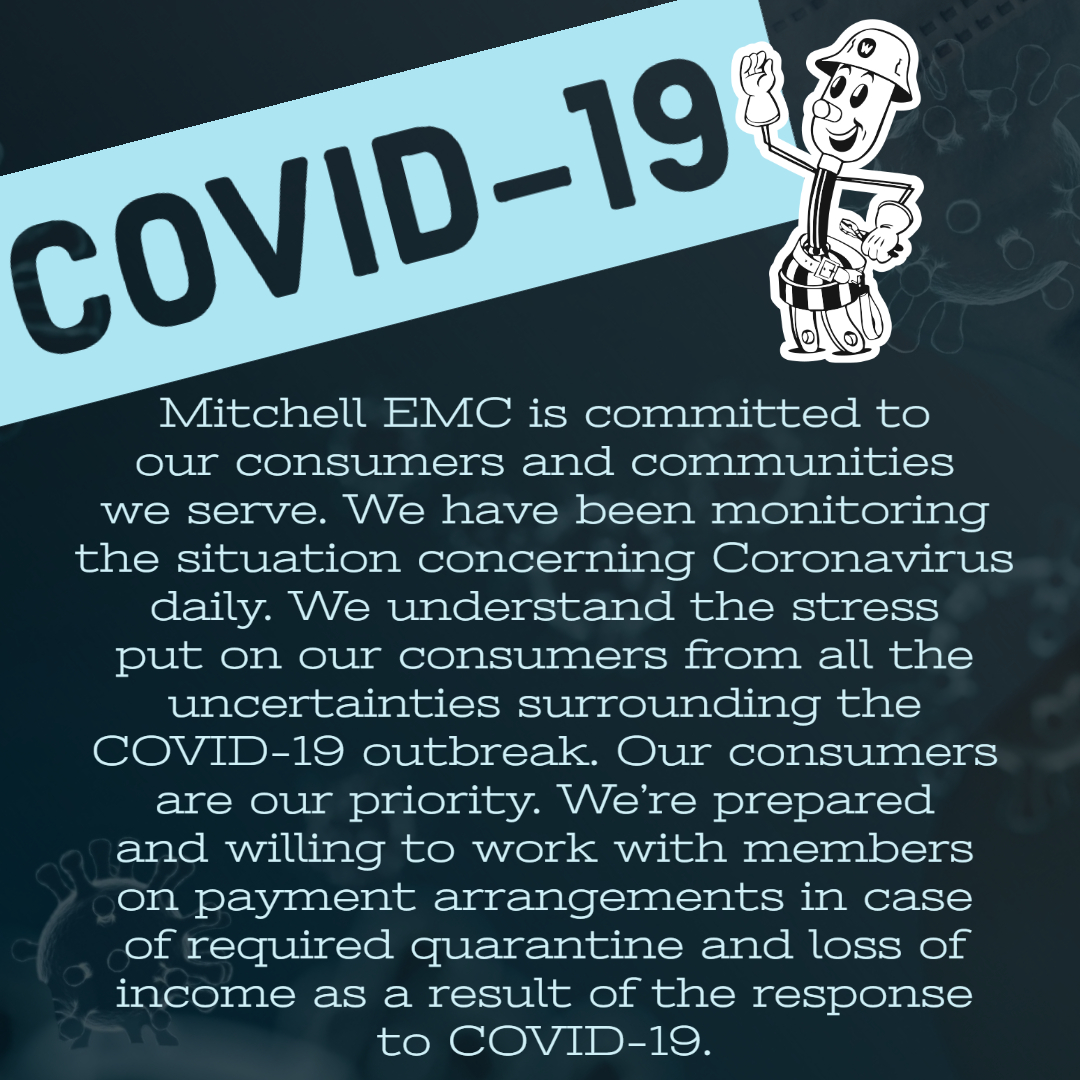 At Mitchell EMC, the health and well-being of our members and communities is our top priority. We are doing our part to try to contain the spread of the virus by sanitizing and cleaning frequently touched surfaces. We encourage all our members to practice diligent hand washing and sanitizing.
We understand the concern and uncertainty you may be experiencing surrounding the coronavirus (COVID-19) and we are committed to being responsive to the needs of our members as the situation evolves.
While our offices remain open to serve you, we strongly encourage you to use our drive-thru, online portal and app to make payments on your account. You can access your accounts online or by using the Mitchell EMC Mobile app at your convenience. From there, you can:
Update account details
View account balances
Make payments
It's faster and easier (in most cases) to manage your account digitally. If you haven't enrolled to use our online portal, go to the Mitchell EMC website, and click on pay bill. You will be able to set up and access your account in a matter of minutes. The mobile app can be downloaded in the app store or google play. The links can be found on our website as well.
Again, the health, safety, and well-being of our members and communities is top priority. We will continue to monitor this quickly evolving situation. As always, we are here to assist our members as needed and remain dedicated to providing excellent customer service.
Report your OUTAGE
MEMC has dispatchers on duty 24-hours a day. During a power outage, be prepared to give the name in which the account is listed and the account number if possible. This information is shown on every electric bill. We suggest posting this information near a phone in your home. Never touch a downed power line. Always assume all downed lines to be energized and contact us immediately. In the event of an emergency, dial 911.
Please do not report your outage through Facebook or other social media applications. Our social media accounts are not tied to our outage system.
To serve you better during an outage, please make sure you keep your contact information up to date. Update your information by logging in to your account or calling 1-800-479-6034.
We make it easy to report your outage. You can call in and speak to a CSR or dispatch, visit the outage center on our website or download our convenient Outage App.
Outage Center: https://mitchellemc.com/outage-center
Outage App: