Power of Membership
What it means to be part of MEMC
Cooperatives are owned by the members, or customers, who use them. Mitchell Electric Membership Cooperative (Mitchell EMC) was formed over 75 years ago by members just like you who needed electric services. They pulled together to organize your electric cooperative.
Today, Mitchell EMC safely delivers reliable electricity to more than 24,630 residential and commercial members in Mitchell, Worth and Dougherty counties. Mitchell EMC's distribution system consists of over 5,570 miles of line over 400 square miles.
Rural Broadband Update from Georgia Magazine
What's the update on rural broadband? With continued focus on the digital divide by policymakers in 2019, learn about progress being made and hurdles left to overcome in this month's issue: https://www.nxtbook.com/nxtbooks/gemc/georgia_201912/index.php#/26.

For more information, GaRuralBroadband.com is a resource to learn more about electric cooperatives' opportunities – and challenges – in addressing rural Georgia's connectivity challenges. -- with Georgia Department of Community Affairs, U.S. Department of Agriculture, Usda Rural Development Washington, Georgia EMC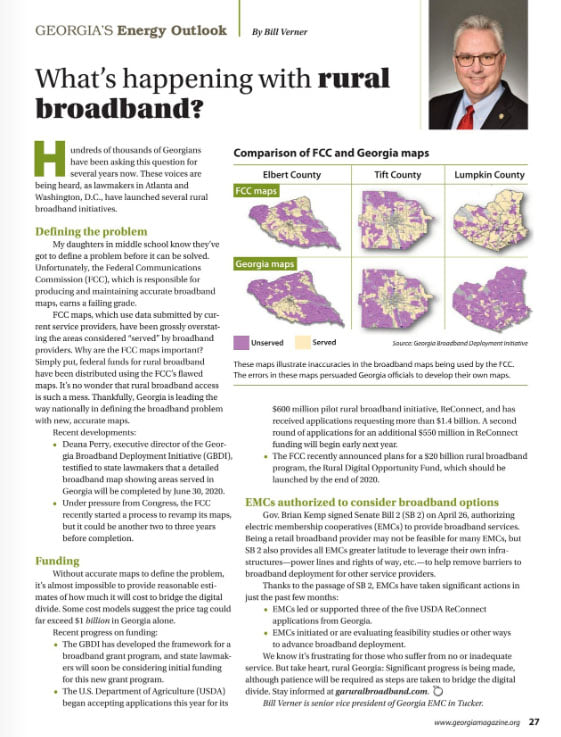 Report your OUTAGE
MEMC has dispatchers on duty 24-hours a day. During a power outage, be prepared to give the name in which the account is listed and the account number if possible. This information is shown on every electric bill. We suggest posting this information near a phone in your home. Never touch a downed power line. Always assume all downed lines to be energized and contact us immediately. In the event of an emergency, dial 911.
Please do not report your outage through Facebook or other social media applications. Our social media accounts are not tied to our outage system.
To serve you better during an outage, please make sure you keep your contact information up to date. Update your information by logging in to your account or calling 1-800-479-6034.
We make it easy to report your outage. You can call in and speak to a CSR or dispatch, visit the outage center on our website or download our convenient Outage App.
Outage Center: https://mitchellemc.com/outage-center
Outage App: